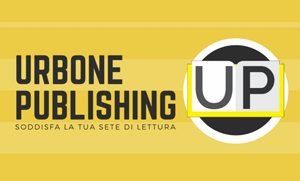 TOSTÃO: the forgotten genius of the 'white Pele'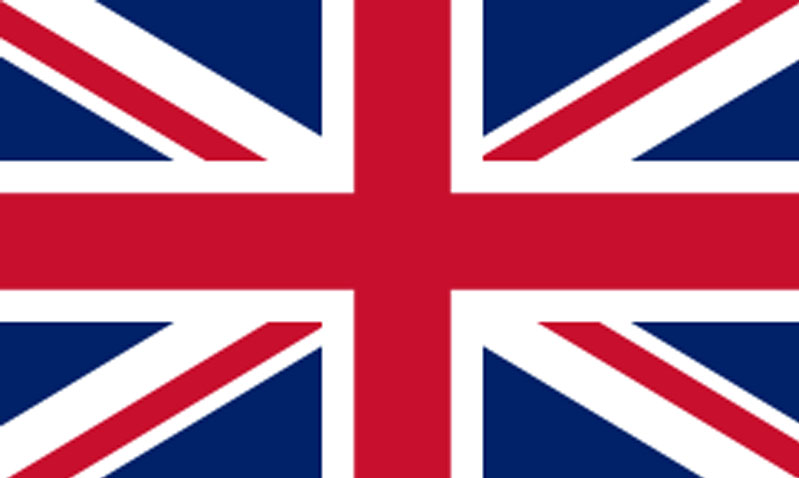 "The doctors have been clear. It will be at least six months before I return to a football pitch.
It's October, so I won't be able to resume training before March.
In June the World Cup will start.
I don't have much time left but I know I can do it.
What becomes difficult to understand and accept is that my World Cup will not be at risk because of a bum knee or a messed-up ankle.
I might not play the World Cup and maybe even stop playing because I can no longer see out of my left eye.
It happened less than a fortnight ago in a league game.
With my Cruzeiro we were playing at Pacaembu in São Paulo against Corinhians.
Infamous pitch, soaked with rain.
I have the ball between my feet and I'm approaching the opponent's penalty area.
Someone touches me on my supporting foot.
I end up lying long and losing control of the ball, which ends up at the feet of Ditao, one of the Corinthians defenders.
His goal is to kick the ball as far as possible.
Only the ball doesn't go very far.
In fact it travels just over a metre before hitting my face.
Hitting my left eye in full.
The ball, soaked with water and kicked violently, leaves me almost numb.
When I try to get up again, however, there is something else besides soft legs and an immense pain all over my face.
I can no longer see out of my left eye.
I think about the pain, the World Cup, my career and the fucking fear of being blind in one eye.
There is retinal detachment.
The operation, as the doctors say 'was a success'.
But it will take time.
6 months.
6 long months without making any effort whatsoever to give the retina time to reattach and the eye time to absorb it all and to try, in two months, to prove that I still deserve my place in the starting eleven of my national team.
We have a very good team.
With so many talented players that it will be a problem for Joao Saldanha, our selector, to choose who will get on the plane to Mexico, despite the fact that he has shown he has very clear ideas about the men he wants to focus on and the tactics of the game.
I feel the coach's trust. He told me that he will wait for me and that if I come back at 100% a place for me in his national team will always be there.
I've already played in a World Cup.
It was just one game, at the 1966 World Cup in England.
I was only 19 years old.
I even scored a goal.
And the adrenaline of that day I don't forget.
And I want to feel that feeling again and again.
Now all that remains is to wait.
And in those two months, between March and May, prove to everyone that Eduardo Gonçalves de Andrade is back to his old self.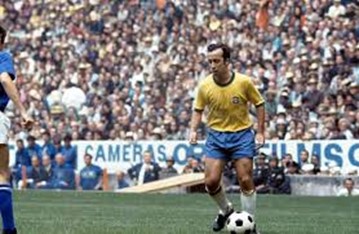 These will be difficult months for Tostão.
The operation is delicate and it takes time and attention for Tostão's left eye to return to full efficiency.
So we arrive in March 1970 and Tostão has just resumed training when another potential blow arrives to put his participation in the World Cup in doubt.
Joao Saldanha, the Brazilian national team selector, was dismissed.
Despite a resounding qualifying round and the support of much of the Brazilian torcida.
On 17 March 1970, a little more than two months before the start of the Mexican World Cup, Joao Havelange, President of the Brazilian Football Federation (and the same man who wanted Saldanha so badly on the Seleçao bench only two years earlier) decided to sack the former journalist and football connoisseur.
The pretext is given by Saldanha's irascible and violent character, who is said to have turned up at a meeting with one of his most ferocious critics, Botafogo coach Yustrich, brandishing a firearm.
In reality, the motive is simpler and less romanticised.
Saldanha is a lifelong militant communist and the new right-wing military junta established in the country the previous October and led by Emílio Garrastazu Médici, certainly does not look favourably on the presence of a 'subversive' in such a prominent role in a country that 'lives' on football.
In his place was installed the still very young Mario Zagallo, World Champion with Pelé in 1958 and 1962.
For Tostão, things became complicated.
From the near certainty of a place as a starter he now moves to a place as a reserve … and provided he proves to have fully recovered from his retina operation.
Zagallo has 'his' Brazil on his mind and first of all inserts Rivelino and Clodoaldo, until then 'peripheral' figures in the Saldanha management, into the first team.
Rivelino in particular takes, in Zagallo's line-up, the place of left halfback … basically the role occupied by Tostão in his Cruzeiro and in Saldanha's national team.
Tostão is certainly not a 'quitter'.
He rejoins his Cruzeiro and immediately returns to play at the highest level.
The midfield positions, however, are all filled.
His team-mate Dirceu Lopes, an immovable starter with Saldanha, is also sidelined by Zagallo.
Rivelino, Gerson and Clodoaldo are the new masters of the neuralgic sector of Brazil wanted by Mario Zagallo.
Players of enormous talent such as Ademir da Guia of Palmeiras do not even find a place on the bench and even Piazza, a midfielder also from Cruzeiro, is relegated to the centre of defence.
Tostão, who acts as '10' in Cruzeiro, is considered by Zagallo as the alternative to 'O'Rey' Pelé.
Certainly not a great prospect for the left-back from Belo Horizonte.
In a Brazil so rich in talent, however, one piece is still missing (and it will certainly not be the last for the Brazilian national team): the centre forward.
Rogerio Hetmanek, Dario (even sponsored by the President of the military junta Médici), the very strong but still unripe Leivinha … none of the three fully satisfied Zagallo's trust.
So he takes a step backwards: if Tostão, Pelé, Gerson and Jairzinho could coexist in Saldanha's national team, nothing prevents it from happening in his too.
For Tostão, he invented a role as an advanced midfielder who, yes, plays with the number 9, but does EVERYTHING less than stand still near the opponent's area.
On the contrary, his footballing intelligence, his vision of the game and his very precise left foot will become a decisive weapon to trigger the insertions of Pelé and Jairzinho, who, thanks to Tostão's movement, will often find authentic prairies in which to launch themselves.
This move would prove decisive in the economy of Brazil's game and in the tactical balance of a national team decidedly front-driven.
Brazil will win that World Cup playing probably the most creative and spectacular football seen in the history of the sport.
It will be the World Cup of Pelé, who will close his wonderful career at the top, it will be the World Cup of the 'arrow' Jairizinho, of the magical left foot of Roberto Rivelino from Molise, of the geometry and tactical acumen of Gerson, of the raids on the flank of the first fluidifying full-back of the modern era Carlos Alberto, of the defensive midfielder perhaps the strongest in the history of football Clodoaldo … but it was to be, especially for discerning observers, the World Cup of Tostão, the first 'true false nueve' in the history of modern football.
Once the World Cup was over, Tostão returned to his Cruzeiro team, playing another remarkable season.
He was even crowned Best Footballer of South America in the 1971 season.
The Brazil that was to defend the title on German soil in 1974, however, now had several footballers who had reached the twilight of their careers.
Pelé, Gerson, Brito, Felix, Carlos Alberto … they have all already given their best.
For Tostão, a future as a leader in the Brazilian national team, in which he continues to play (and score!) with great regularity, is in sight.
With Rivelino, Jairzinho, Clodoaldo and Piazza, young footballers of certain future like goalkeeper Leao, left-back Francisco Marinho, stopper Luis Pereira and striker Leivinha are growing.
The aftermath of Pelé appears less problematic than expected.
Lady Luck, however, has other plans.
Problems with his left eye recurred towards the end of 1972.
Tostao left his beloved Cruzeiro a few months ago to move to Vasco de Gama.
The sum paid by Vasco de Gama president Agathyrno Silva Gomes is impressive.
Today it would be very close to USD 20 million, which for the Brazilian league was a truly sensational sum.
Tostão's performances at Vasco de Gama were not, however, except for the very first period, worthy of the quality and prestige of the player born in Belo Horizonte on 25 January 1947.
Retina problems became more acute.
Tostão underwent four more surgeries, but without appreciable results.
A sad crossfire of accusations began.
Vasco de Gama's management attacked the expensive new signing for concealing or minimising the problem when signing the contract, Tostão retorted by saying that he had successfully passed all the medical examinations he had undergone before signing the contract.
By the end of 1973 Tostão was already an ex-footballer.
According to the doctors, the risk of completely losing the sight in his battered left eye was too high.
Eduardo Gonçalves de Andrade known as Tostão retires from football.
He is not yet 27 years old.
For him, the images of his plays, fortunately available on the net, and above all the statistics, unequivocal, speak for themselves.
271 goals in 449 club games and 32 goals in 54 matches with the Brazilian national team.
And as Tostão himself often points out, 'And don't forget, I wasn't a striker!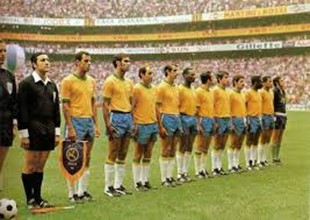 ANECDOTES AND CURIOSITIES
As a teenager, Tostão's priorities were very clear: 'I wanted to be a doctor. To graduate and save lives. When they told me I could have a great career playing football I decided to go for it, putting my heart and soul into it. But I knew that when my career was over, I would go back to doing what I REALLY wanted to do in life.
This is exactly how it will go. In 1975, Eduardo Gonçalves de Andrade enrolled at university and graduated in Medicine … specialising, of course, in ophthalmology!
His call-up for the 1966 World Cup in England, when Tostão was only 19 years old, came as a complete surprise to many observers.
His performance with Cruzeiro, however, had attracted the attention of Brazilian national team selector Vicente Feola.
'He is 19 but plays as if he were 30. And on the pitch he sees things a second before everyone else,' this was Feola's motivation for his call-up.
On his return from the World Cup will come for Tostão and Cruzeiro one of the greatest victories for the team from the state of Minas Gerais.
That in the Brazilian Championship, which from July to December will bring together the 21 winners of the various regional championships plus Pelé's Santos, the defending champion.
Santos and Cruzeiro will reach the final.
There will be no match. Cruzeiro triumphed 6-2 in the first leg at home and defeated Santos 3-2 in the return leg, with Tostão scoring a wonderful goal from a free kick.
Much discussed was his departure from Cruzeiro, where Tostão was an absolute idol for the fans.
The reason was the exoneration by Belo Horizonte club president Felicio Brandi of the very popular coach Orlando Fantoni.
Tostão was on tour in Australia with the rest of his teammates when he got the news that the club was about to sack Fantoni and hire that very Yustrich, Saldanha's 'friend' and famous for his almost militaristic training methods.
He asks for a meeting with the President to dissuade him from that choice and when he realises there is nothing to be done he declares 'I played my last game with Cruzeiro'.
The news alerted all the main teams in the country and beyond, but when Brandi communicated the price of Tostão's card, almost all of them took a step forward.
Tostão almost all take a step back: 5 million cruzeiros is far too much even for teams like Flamengo, Fluminense or Corinthians.
Those who do not want to give in are Vasco de Gama, who go as far as offering 3.5 million.
Cruzeiro accepts.
It is a record sum in the history of Brazilian football.
Even an intelligent and balanced person like Tostão can sometimes make huge blunders.
Shortly before the Mexican World Cup, the left-back from Belo Horizonte returned to the United States for a check-up with the doctor who had operated on him in October of the previous year.
Before going to Houston to see Dr Roberto Abdalla Moura Tostão, he treats himself to a trip to Disneyland in Los Angeles.
He could not resist the temptation: he went on a roller coaster for a thrill ride.
When he tells his doctor a few days later, the latter cannot believe it.
"You have jeopardised everything for a girl's sake," the doctor tells him angrily.
Fortunately, there is no damage.
And Tostão will play in the Mexican World Cup, entering football history forever.
Tostão has always stood out for his great sense of self-criticism ('I only kick with one foot, I don't know how to hit with my head and I'm slow' he will always say of himself as a footballer) but on one particular occasion he will go as far as, in his own words, 'being ashamed like a dog in church'.
It was the day after his triumph in the Taça Brasil won in 1966 in the final against Pelé's Santos.
One of the Belo Horizonte newspapers publishes a large photo of Tostão with the caption 'The new Rey of futbol', indicating in Tostão the successor of Pelé.
"I was afraid that Pelé was angry with me for that title. Instead, when we met again he only complimented me on my performance in that final'.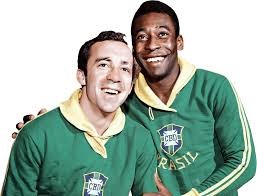 The story of his nickname 'Tostão', by which he is universally known, is curious.
As a child, apart from being very petite and short in stature, he ended up playing almost always with boys much bigger than him.
'Tostão' was the name of the smallest and smallest coin in circulation in Brazil … a perfect nickname for the smallest (but certainly not the smallest!) of the kids who played football in Belo Horizonte!
Finally, the most significant and important statement about this extraordinary footballer. It was given by 'El Flaco' Cesar Menotti, Pelé's teammate in Santos and Tostão's direct opponent several times.
'If Pelé had not been born, Tostão would have been Pelé'.
The tribute to Tostão is one of 43 biographies of South American footballers described in https://www.urbone.eu/products/matti-miti-e-meteore-del-futbol-sudamericano