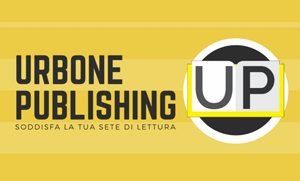 EDGARDO 'EL RUSO' PRATOLA: 'Always fight for your dreams'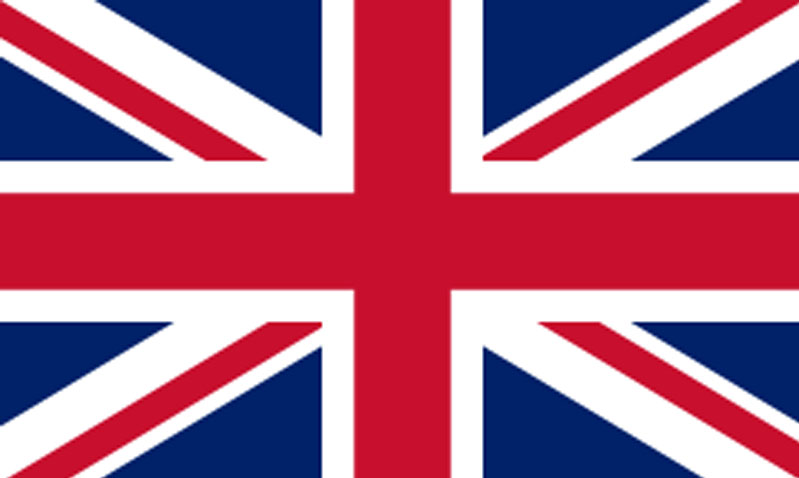 «At my age, at 31, you start thinking more and more about what to do 'when you grow up'.
That is, at the end of your football career and the few years of football that remain.
Stay in football? Be a coach? A sporting director? Or perhaps work with young people?
Or change direction completely and devote himself to something else.
These are, or should be, the thoughts for a footballer of my age.
I won't have that luxury.
For me it won't be 'years'.
But months … maybe even weeks.
And not because of a knee or an ankle.
Because of a damn cancer.
The doctors didn't dance around it too much.
It's a colon cancer that is spreading like wildfire through my body.
I don't have much time left.
This means that for me it won't only be goodbye to football, my teammates, the fans and my beloved Estudiantes jersey.
I will have to tell my wife, my beloved Ana Laura, and my beautiful little girls, Camila and Lara.
But first I want to play one more game at least, just one.
Estudiantes won't deny me that, I know.
I have already lost almost 5 kg in a few weeks but in a few days there will be the derby against Gimnasia.
I want to be there.
I have to be there.
It doesn't matter if that day is one of those 'crazy' days where I feel the claws of an angry lion inside me or where I have to take a double dose of laxatives to get rid of my stomach.
Maybe I will also play badly and maybe I will not leave a great memory for our fans who will see me that day.
It doesn't matter.
That game will count for me, because I want to have a memory with which to bask in the months they say I have left to live.
Yes, I do it for me.
Am I selfish? Maybe.
But believe me … at this point I don't really care.
For the last time I want to put on my boots, for the last time I want to smell the camphor oil in the locker room, for the last time I want to hear the shouts of my teammates before taking the field … and for the last time I want to feel the warmth of our fans when we enter the cancha.
I want to put on the 'Pincha' jersey for the last time, the team that I have always loved and cheered for as a child and with which I was lucky enough to play 233 games.
For the last time I want to run on the lawn of the Jorge Luis Hirschi where I have enjoyed myself like crazy for so many years.
If I still manage to win a few aerial duels, make a few good tackles and maybe knock out an opponent or two … well, I'll have even better memories to take with me.»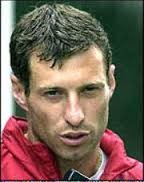 On 27 April 2002, at the age of 32, Edgardo Fabian Pratola, known as 'El Ruso', lost his battle with cancer.
Just over a year after realising his last dream.
Edgardo Pratola played, and won, his last match against Estudiantes' historical rivals, the 'Lobo' of Gimnasia Y Esgrima La Plata.
Edgardo, born in La Plata on 20 May 1969, played his way through the youth ranks at Estudiantes before joining the first team, where he made his debut at the age of 19.
He stayed with the 'Pinchas' until 1996, knowing in less than a year the disappointment of a relegation to Segunda and the immediate ascent to Primera during a triumphant season played with the captain's armband.
Then the transfer to Mexico, in the ranks of Leon, the top team in that championship.
'El Ruso' would stay there for three seasons before returning to Argentina.
One season with Union de Santa Fe before the longed-for return to the ranks of 'his' Estudiantes in 2000.
The joy of returning to his beloved club was short-lived, however.
In early 2001 he was diagnosed with colon cancer.
The dignity, courage and determination with which Edgardo fought for more than a year against this merciless evil will be an indelible memory for all those close to him, family, friends and the entire Estudiantes society.
'El Ruso' was deeply loved and respected for his great human qualities.
Calcistically he was not a phenomenon, he had neither great technique nor natural gifts.
But he was a born fighter, he had heart and courage.
He hit like a blacksmith!
Until May 2014 he held the record for the most expulsions in the Argentine championship!
As many as 19, not a bad figure considering that in his day Argentine football was much harder and more physical than today and the referees much more tolerant.
The classic prototype of the '2' who in Argentina has always been the stopper, the one who simply has to stop, with the good (rarely) or with the bad (much more often) the opponent's centre forward.
Estudiantes will behave splendidly towards Edgardo, one of the historic 'flags' of this club, until the very end.
He was even offered a role on the technical staff of Coach Nestor Craviotto, but the doctors firmly opposed it.
There are not enough conditions for a body already so undermined by illness.
One of his last great joys came from his teammates at the end of another victorious derby against rivals Gimnasia.
It was 22 January 2002, and in the celebrations at the end of the match, his team-mate and great personal friend Mauricio Piersimone put him on his shoulders and carried him around the pitch in front of his own fans and the equally wonderful Gimnasia fans, who despite the heated rivalry would show that evening and on other occasions their support and backing for a great and loyal opponent.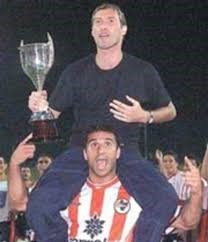 On the morning of 27 April, only three months after that unforgettable evening, Edgardo Pratola would pass away in the Italian hospital in Mar del Plata.
A few hours later, Estudiantes were scheduled to play an important league match against Independiente.
The match will be played anyway, and it seems that 'El Ruso' expressly asked for it to his teammates and managers in the days before.
His last words were to his father Natalio, shortly before his death.
"Remind my 'girls' (3-year-old Camila and 11-month-old Lara) every day to face my death simply as one more thing that is part of life.
And to go on, always fighting for their dreams."
Rest in peace warrior.