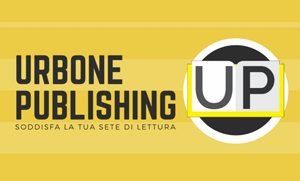 ROBERTO DINAMITE: My heart is black and white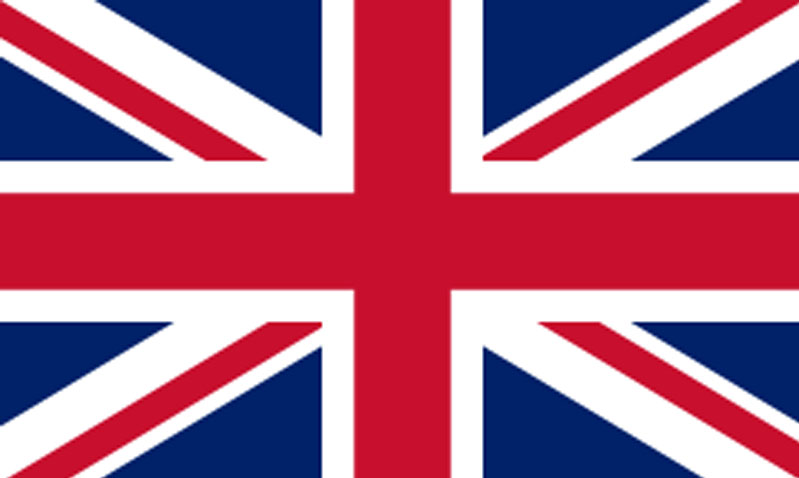 "We have stopped rejoicing and we have stopped hoping. Going to see our beloved 'Gigante da colina' no longer tastes the same.
Whether it is in our cosy little Sao Januario or in the mythical Maracanà.
I look at the faces of the other members of the 'Mancha Negra', one of the many 'torcidas' of our Club and of which I have been a member practically since I was born …
It no longer feels like going to a football match.
It's more like going to work in the morning.
You know you have to go, that it's not right not to and that you can't afford to stay at home … but the 'pleasure' is something else entirely …
He's been like that ever since that cursed 3 January when a very rich team on the other side of the ocean took him away from us.
It was easy to fall in love with him.
I was there at the Maracana on 25 November 1971 when he scored his first goal in our colours.
He was only 17 years old.
There had been talk for some time about this boy who was scoring tons of goals in the youth teams.
I had only seen him once before that night.
Almost two years earlier at a youth tournament in Ipanema.
At the time I wondered how he could stand up.
You could see he had great skills, but he was skin and bones.
I think he ended up lying on the ground no less than 15 times in that match!
… but he also scored two goals and you could tell he 'knew' where the opponent's goal was.
He had already made his debut with the first team a few days earlier against Atletico Mineiro.
It was not an unforgettable debut.
On the contrary. The boy was substituted in the second half and those who were there that day went home with some doubts after all that waiting.
In fact, he started that night sitting on the bench.
We were already in the second half and we were winning one-nil when Admildo Chirol, our coach, took Gilson Nunes off the pitch to put the youngster in.
After a few minutes he scored that goal.
Goals like that are not scored by chance.
Goals like that are only scored if you are a great player.
Having received the ball in the left sector and with his back to the goal, he turned, jumped over four opponents in dribbles before unloading a cannonball, a missile, a torpedo, a broadside … call it what you like.
The fact is that the ball swelled the goal net right under our Torcida.
That night we went home happy.
We knew we had found the striker we had been missing for too many years, ever since the great Ademir de Menezes stopped playing for us more than 15 years before.
The next day, Aparicio Pires, in the Jornal dos Sports, came out with this headline 'Dynamite boy blows up the Maracanà'.
Until that day we had called him Calu or Carlinhos.
Now, our new idol also had a new name: ROBERTO DINAMITE.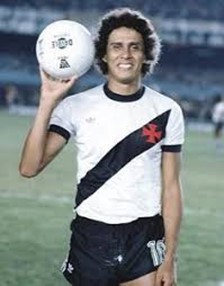 The suffering of the people of Vasco de Gama, the team from the Portuguese community in Rio de Janeiro, would only last a few months.
Roberto Dinamite's acclimatisation to Barcelona is much more difficult than expected.
It only took 10 official matches and only three goals (two of them on penalties) to realise that Spanish football was not for him.
At the end of April 1980, Roberto Dinamite returned to his home and his club: Vasco de Gama.
For the HCL side in Rio, another Carnival began.
On 5 May 1980, he returns to wear his jersey.
There is an important match for the Brazilian championship.
There are almost 110,000 people in the stands of the Maracanà.
Facing them is the very strong Corinthians of Dr. Socrates, the defending champion.
But the party, that day, is all for him, for the return of the prodigal son: Roberto Dinamite.
Just over ten minutes into the match, Corinthians' midfielder Caçapava tried to spoil it by putting his side ahead.
It was only a minor mishap.
Within 25 minutes Roberto Dinamite scored four goals.
The fifth came midway through the second half and Socrates' goal in the final was totally irrelevant.
The Vasco people literally went mad.
The sad Catalan interlude has not in the least affected the talents of their idol.
With five goals in the same match, Roberto Dinamite also set yet another record: that of the most goals scored by a single player in the same match.
… a record that would only be beaten 17 years later by another Brazilian striker, the famous Edmundo, 'O'Animal', capable of scoring 6 in the same match … and always with the Vasco de Gama jersey.
Roberto Dinamite would remain with his Vasco team for the rest of his career, apart from two brief spells on loan at Portuguesa and Campo Grande.
Thirteen years in which Roberto Dinamite would break every possible record in the club's history.
1110 matches played and 702 goals.
A Brazilian championship title in 1974, 5 'Carioca' championships, another 20 minor trophies, the record for goals in a single season (61) surpassing Flamengo's great rival Zico who had stopped at 60.
Nobody like him.
Extraordinary numbers that only partly explain what this fantastic centre forward has meant to Vasco.
With these numbers and these results it would be almost automatic to imagine for Roberto Dinamite an amazing career with the Brazilian national team.
This will not be the case. Or rather.
Despite a respectable score (25 goals in 47 appearances) Roberto Dinamite was never a real star in Brazil.
At the 1974 World Cup, despite being only 20 years old, he was already the strongest centre forward around for many observers.
Not so Mario Zagallo, Brazil's selector at the World Cup in Germany, who preferred to distort the very strong Leivinha into a centre forward … he who was a classic centre forward.
In 1978 he finally found a bit more space, returning Osvaldo Brandao's trust with 3 goals, one against Austria and two against Poland. It was precisely the victory against Poland (3-1) that seemed to have sealed the green-gold team's passage to the final … before the Argentinians' 6-0 win against Peru a few hours later …
But the feeling was always the same: unconditional trust in him never came, from none of the successive coaches on the green-gold bench.
What then happened four years later at the Spanish World Cup is almost tragicomic.
At the age of 28, at the height of his psycho-physical maturity and fresh from an excellent season with Vasco (his record of 61 goals in a season is from the calendar year 1981), Roberto Dinamite only managed to get into the 22 players called up for the Iberian World Cup at the last minute and only thanks to the injury suffered by the young and already very strong Careca.
In that World Cup, Roberto Dinamite was a spectator for the duration of the tournament.
As starting centre forward in that World Cup he was preferred to Serginho.
The whole of Italy still thanks Tele Santana today for this choice …
Two years later, in 1984, Carlos Roberto de Oliveira played his last match with his country's national team.
It will be a dull 0-0 against Argentina.
At Vasco, however, he would continue to score with great regularity for several more seasons.
His range will diminish from year to year, but his technique and shooting power will remain intact.
He would end his career with Vasco de Gama in 1993, at the age of 39… in time to act as a 'guardian' for the man who would take his place in the hearts of the fans of the 'colina giant': ROMARIO de Souza Faria.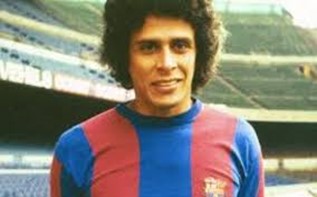 ANECDOTES AND CURIOSITIES
When he arrived in the ranks of Vasco de Gama at only 15 years of age, discovered by the famous talent-scout Francisco de Souza Ferreira (O Gradim to everyone) 'Carlinhos' or 'Calu' as he was then called by the people of his barrio, weighed exactly 52 kilograms.
'No problem,' O Gradim assured the somewhat uncertain Vasco managers, 'making him put on kilos won't be a problem. A real problem would be if Flamengo or Fluminense took him away from under our noses!"
In just one year 'Calu' gained a good 15 kilograms … scoring 46 goals the following season with Vasco's youth team.
Legend has it that Internacional coach Enio Andrade and the management of Internacional de Porto Alegre, finalists a few months before in the Copa Libertadores, were convinced after the defeat against Vasco de Gama on the night Roberto Dinamite scored his first goal that the defence was in absolute need of reinforcement as a 17-year-old kid had carried it off with ease.
A few months later, from Penarol Montevideo, came Chilean Elias Figueroa, the strongest central defender in all of South America.
More than once Roberto Dinamite was reproached for excessive selfishness, especially when he found the ball between his feet near the opponent's area.
The answer to his critics was always the same. "I play centre forward. Who do you think should score goals? Our right-back?"
Roberto Dinamite's disappointing performance in Barcelona astonished everyone. Arrived with the not easy task of replacing the Austrian striker Hans Krankl and, above all, with a very important expense for the time (around 800,000 dollars), the start was nevertheless excellent. On 20 January 1980, it was his double against Almeria that gave the Blaugrana victory. A penalty kick and a shot from the edge of the box, which, thanks to a deflection by a defender, cleared the opponent's goalkeeper.
Nothing sensational, but enough to restore hope to the Barça fans who had been far too long away from the top positions. From then on, however… nothing. Only one more goal, again on a penalty, in the Super Cup match against Brian Clough's Nottingham and then only many colourless and almost abulic performances.
There were two main reasons for his poor performance: the first was surely due to the climate. From the sun of Rio to the temperatures only a few degrees above zero in that Catalan winter conditioned the Brazilian bomber's performance in no small measure. The second, decidedly more important, was the departure of manager Quimet Rifè, who strongly wanted Roberto Dinamite with the installation of the old (and by then decidedly 'boiled') wizard Helenio Herrera, whose esteem for the Brazilian striker was very low.
In mid-March, not even two months after his debut, Roberto Dinamite took to the streets again.
Back to being that phenomenal striker that the whole of Brazil knew perfectly well.
Contrary to what is reported practically every time Carlos Roberto de Oliveira is mentioned, the nickname 'Dinamite' was not born on the night of his first goal against Internacional at the Maracanà. In fact, two journalists from the Jornal dos Sports, the aforementioned Aparicio Pires and Eliomario Valente, had already been using this name for at least a year before when the young 'Carlinhos' won the scorers' table of the 'Carioca Youth Championship', scoring 13 goals in 12 games.
Finally, an authentic 'gem'. As soon as it became clear that he would not have a long life in Barcelona, the first to move for his return to Brazil were the Flamengo managers.
It was even the president of Rio Marcio Braga who went to Catalonia to propose the transfer to Roberto Dinamite. Having heard about it and pressed by the Vasco torcida who simply could not accept their idol playing for their eternal rivals, the Vasco executives moved to bring the striker back to Sao Januario.
Just so, given the love (totally reciprocated!) between Vasco supporters and their iconic footballer.
… but an attacking duo with Zico and Roberto Dinamite together we are sure that Flamengo fans will have been dreaming of for quite some time …
Roberto Dinamite's biography is one of 43 written in https://www.urbone.eu/products/matti-miti-e-meteore-del-futbol-sudamericano