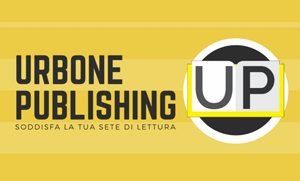 PETER CROUCH: A 'freak' who could play football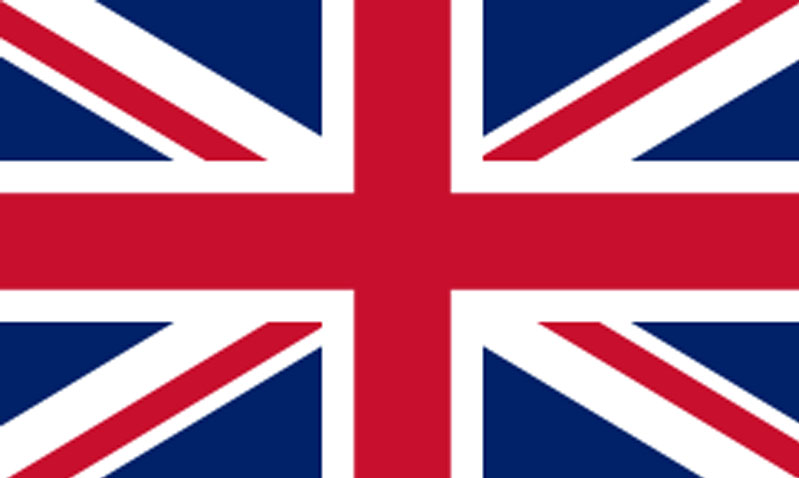 It is not at all easy to start with such a handicap.
When it seems that all the insiders, or almost all of them, are incapable of seeing the great qualities contained in that peculiar, strange physical structure, which is not in keeping with the classic structure of a football player.
"With that physique there, he can't play football!" is the refrain of all those years in the youth teams of first Queens Park Rangers and then Totthenam.
You want to show everyone, in every training session and in every match, that with those 200 centimetres of height you are not just there to hit balls with your head, but that you have feet and even more refined and "sensitive" than at least 90% of your teammates.
Nothing to be done.
There was no way.
Whatever Peter did they were all pointing out the limitations, never the qualities.
When we went from QPR to work for Spurs we took him with us.
I was his coach in the QPR youth academy and I thought that at Spurs he would finally find someone capable of realising his true worth.
Once in the youth ranks he scored a hat-trick at Charlton.
Two goals with his head and one with his foot.
That day at the game there was one of the coaches on the staff of Christian Gross, the Swiss manager who had recently arrived at the club.
"Whatever, he's six inches taller than everyone else! If he doesn't at least take it in the head then goodbye!" was his comment.
There was no point in trying to explain to him that it's not enough to 'take it' with your head, but you also have to direct it where the goalkeeper can't get to it, and it's not exactly that simple.
Even the foot goal was somewhat downplayed.
"The goalkeeper rejected it right on his feet. It was easier to score than to miss!" was all the coach sent by manager Gross could say.
The problem is always the same: the angle from which one looks at things.
If someone in that coach's good graces had scored it then it would have been called 'opportunism and goal sense' … in Peter's case it was just dumb luck.
It was almost a surprise when Peter was offered his first professional contract in early July 1998.
The doubts about him had certainly not dissipated, but it was undeniable that the long, thin, always smiling and extremely polite man had intrigued many.
It was around this time that the phrase began to circulate which Peter carried with him throughout his career and which makes me angry every time: 'well, he has good feet for someone so tall'.
The phrase should have been 'he has good feet'.
The end.
But the first team continued to remain a mirage, even after he was called up to the England Under-20 national team for the World Cup in 1999.
It was after two unhappy loan spells, first with semi-professionals Dulwich Hamlet and then in the Swedish Second Division with IFK Hassleholm, that Totthenam were convinced that Peter could only play PES in the Premier League.
So when the offer came from QPR to bring him back to Loftus Road the Spurs directors were only too happy to sign the transfer and collect the astronomical sum of … £60,000.
He called me the same evening.
"Des, I'm going back to QPR. Gerry Francis wants me. He's got a lot of strikers but hopefully I can find some space," Peter told me over the phone.
"I'm sure you will boy. I'm sure you will. Don't give up !" I told him without hesitation.
It took him a while to 'settle in' but in the eighth of the season he scored his first goal, the decisive one in the victory over Wimbledon.
From then on he never left the first team and even though it was a cursed championship that ended with relegation to the Third League of English football, Peter Crouch played an excellent season. Twelve goals, plenty of assists and proof that there was a place for him in professional football… in spite of all those Cassandras who judged him before even seeing him in action.
He was voted player of the year by the fans and no one was surprised when Serbian tycoon Milan Mandaric's Portsmouth, an ambitious lower division team, decided to invest £1.5 million for this slender striker, beating off competition from half a dozen rivals.
That summer, along with Peter, a formidable Croatian midfielder also arrived at Fratton Park, who although in the twilight of his career was absolutely capable of making a difference.
His name was Robert Prosinecki.
Things did not go as expected. Portsmouth never fought for the promotion to the Premier League that was in the expectations of Mandaric, manager Graham Rix and the Pompey fans.
The main reason was that apart from Prosinecki and Crouch none of the other players in the squad performed to expectations.
Peter played an extraordinary season.
He scored 19 goals and no one was surprised when even before the end of the championship, in March 2001, Aston Villa shelled out a whopping £5 million for his card.
He seemed to have made it.
Two goals in the last seven league games and the feeling that it would all be downhill from then on.
It was not to be.
The following season Peter struggled to perform at his level.
He went 18 games without even scoring a goal.
The following season was a little better, but it was clear that 'Crouchy' had lost a bit of self-confidence … and that is something that a striker in particular cannot afford.
"I'm afraid I'm still not ready for Premier Des. Maybe I'd better go back and play one step lower for a while," Peter told me at the time.
That's exactly how it went.
He played on loan for a few months at Norwich where, although he didn't make waves, he found a regular starting place and with that some of his self-esteem.
When he returned to the Villans in the second half of the season he scored a brace against Leicester and another couple of goals against Bolton and Middlesbrough, but for David O'Leary, the Irish manager of Aston Villa, Peter was far from indispensable.
Southampton then came forward for him.
Portsmouth did not take it well … signing for their great rivals!
But at that point there wasn't exactly a queue to grab Peter's services.
Things were also struggling at Southampton.
Kevin Phillips and James Beattie were the two undisputed starters in attack and for Crouch there was only the occasional small cameo.
In life you need luck, they say.
And finally the wheel decided to turn the right way for Peter too.
In early December, after a disastrous start to the season, Harry Redknapp, who knew Peter from his time at Portsmouth, arrived.
He didn't think about it for a second.
Crouch became a starter and James Beattie was sold a month later to Everton.
Southampton failed to save themselves, but Peter Crouch had a remarkable season.
He scored sixteen goals and finally became what I always knew he could become: a great striker, capable of playing at the top of football, and not just English football.
Then came that phone call.
I remember it as if it was yesterday.
Instead it was 30 May 2005.
"Des, can you believe it Des?" shouted Peter excitedly into the phone.
"Tomorrow I will make my debut in the national team ! In the England national team Des ! I'll be playing alongside Michael Owen.
Eriksson told me ten minutes ago," Peter told me shortly afterwards.
"I don't forget that Des. Even though it's been almost ten years. You always told me this day would come … and now it has really happened. Thanks to you Des."
When I put the phone down, I don't deny that a few tears escaped me.
That tall, thin, always smiling, polite and kind big boy had really made it.
Against everything and everyone.
– "Des" is none other than Desmond Bulpin, probably the only one together with Peter's father, Bruce Crouch, who had always believed in Crouch's qualities. Des Bulpin was Crouch's first coach at QPR and it was also he who brought the Macclesfield striker with him to Totthenam when he became a coach in Spurs' youth sector.
It was Des himself who, when Peter Crouch was only fifteen, predicted him a future in the England national team. He told Peter and his strike partner in the Totthenam youth team, a certain Jermain Defoe, who would also become, like Crouch, an England national team player and who with Crouch would form one of the most lethal attacking partnerships in the entire history of the Premier League.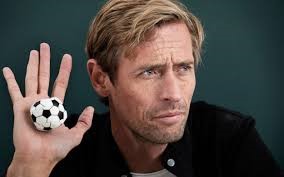 ANECDOTES AND CURIOSITIES
Not even two months after his debut for the national team, Peter Crouch received a call from one of the biggest clubs in world football: Rafa Benitez's Liverpool.
Peter Crouch's start at Liverpool was anything but easy. Despite more than decent performances when called upon (in a team that had attacking players of the value of Djibril Cissé, Fernando Morientes, Harry Kewell and Robbie Fowler) the blond striker from Macclesfield had to wait until 3 December to score his first official goal with the Reds. He did so in a match against Wigan at Anfield when he even scored a brace.
Crouch would end the season with 13 official goals but above all by winning his first trophy, the FA CUP, playing as a starter in the final against West Ham on 13 May 2006.
The long wave of Crouch's form seems unstoppable.
He was included in the 23-man list for the World Cup in Germany, where he played the first two matches as a starter, scoring his only goal in a final phase of a major tournament for nations against Trinidad and Tobago.
At the end of the rainbow event Steve Mc Laren came on the English bench.
In his first official match, a friendly at Wembley against Greece, Crouch was in the squad, but in Mc Laren's plans the role of 'target man' in his new England national team was to be played by Dean Ashton, West Ham's strong number 9. During the last training session on the eve of the match Dean Ashton will suffer a serious ankle injury. Crouch played as a starter the following day, scored two goals and for the next four seasons he was practically always the first choice for the role of 'first forward' in the national team of the Whites of England, in which he ended his adventure with an absolutely flattering score: 22 goals in 42 games.
It was during the following season that what Peter Crouch still considers his biggest regret of his career occurred: that of having entered the 2007 Champions League final against AC Milan only twelve minutes from the end.
"On that day I think Rafa Benitez made a big mistake. He decided to play with just one forward, Dirk Kuyt, who was easily controlled by two great defenders like Maldini and Nesta. I think both myself and Craig Bellamy alongside him from the start could have given the team a big hand. After playing practically all the way to the final it wasn't easy to accept that decision," recalled Crouch without hiding his disappointment.
A problem that could only have been 'solved' a week earlier.
The Liverpool players are in Portugal to prepare for the Champions Cup final against AC Milan mentioned above. The whole squad decides to spend the evening going go-karting.
Peter Crouch is driving his vehicle when he suddenly notices that in the middle of the track are Kuyt and Xabi Alonso chatting quietly.
Crouch tries to brake but the brakes don't work.
He tries to swerve but actually heads right into Kuyt who with an acrobatic leap manages to avoid impact with Crouch's go-kart.
Kuyt is obviously furious but Crouch swears that the fault lies with the brakes, which did not do their job.
A quick check is made and indeed the brakes on Crouch's go-kart were inoperable.
"OK" Kuyt tells him shortly afterwards "But why did you crash into me and not Xabi Alonso?" the Dutchman asks Peter.
"Well, there and then I thought Alonso was more important for the team" is Crouch's reply !
General laughter from all teammates … Kuyt excluded of course …
After leaving Liverpool Crouch returned to Portsmouth for just one season. His 18 goals are more than enough to attract the attention of Totthenam Hotspurs and his mentor Harry Redknapp who wants him with him at Spurs. It will be an excellent season individually and as a team.
For Totthenam, qualification for the next Champions League came and it was Peter Crouch with his goal a few minutes from the end in the decisive match against Manchester City that sealed it.
In the following season Crouch would score 11 goals, seven of them in the Champions League!
He himself will explain why.
"In England they know me very well by now and I must admit that many have understood how to neutralise me. In Europe and with the English national team, however, they are not used to playing against someone with my characteristics … and as long as it lasts I will try to take advantage of it! said Crouch at that time.
Beyond his footballing exploits Peter Crouch is unanimously regarded as one of the most likeable and ironic characters in British football.
He is often on TV as a host and commentator and has also had his own TV show called 'Save our summer' for a few weeks now, and has long had a very popular podcast.
He has always been characterised by his great self-deprecation.
"I have no tattoos. The main reason is with I don't have muscles big enough for them to show".
"My wife knows absolutely nothing about football and doesn't care at all. Once my mobile rang in the locker room. We were about to take the field against Totthenam in a Champions League match. I decided to answer it as I feared something serious had happened. … it was my wife who wanted to know where I was and what I was doing …'
The beginnings, however, as mentioned, were by no means easy.
His peculiar physique was an easy target for opposing fans.
'Freak', monster, was just one of the many insults he received from the stands.
Crouch recalls in particular the period of his loan from Totthenam to the semi-professional Dulwich Hamlet.
"You find yourself at the age of nineteen playing in front of 200 people with at least half of them shouting everything at you. It's in those moments that you think whether it's really worth it to still believe in a future in football,' the former England national says today.
One of the greatest moments of popularity came for Crouch along with his first goals with the England national team, which he loved to celebrate with the famous 'Robotic dance', mimicking the moves of a robot by joking about his apparent lack of agility.
"I used to get stopped in the street and asked to do the dance again!" recalls Crouch today.
"It was crazy! And then again, with a body like mine, it wasn't easy to disguise myself. Many of my colleagues just had to put a hat pulled down over their foreheads and they solved the problem. When I did it, it was "Hey, look at Crouch in a hat!"
There were also advantages to his particular physique.
"During the summer break I didn't really take care of my physique. I ate and drank a bit of everything and did very little training. On the first day of preparation, however, I weighed exactly the same as at the end of the previous season! I remember that many of my teammates 'hated' me for that …' Crouch himself recounts.
Shortly after signing with Liverpool Crouch decided to give himself a special present: a brand new Aston Martin.
'I was driving my little gem. Open windows, sunglasses, blasting music from the stereo. In short, I felt like 'The Man'. At a traffic light another car pulls up next to me.
Behind the wheel is Roy Keane.
He looks at me as one might look at a big yellow pimple in the middle of his forehead. I deflate like a balloon.
Less than a week later I had sold the Aston Martin!" says Crouch with amusement.
When Cristiano Ronaldo scored his famous backhand goal in the Champions League match between Juventus and his Real Madrid team, Peter Crouch was in the BBC studios as a commentator.
"Oh yes, I must say, there are very few of us capable of scoring a goal like that!" drawing a fat laugh from the whole studio.
… only Peter Crouch didn't tell a lie at all …
In January 2018, Antonio Conte's Chelsea were looking for a classic 'English-style' number 9, that is, a player who was strong in the aerial game and capable of playing with his back to goal.
Peter Crouch was one of the names considered by the Italian coach who then eventually decided to buy Frenchman Olivier Giroud from Arsenal.
Peter Crouch took it with his usual humour.
'Well, Chelsea settled for the second most handsome centre forward in the English league' …
Finally, the absolute 'pearl' among all Peter Crouch's statements.
Journalist: Peter, what would you be if you hadn't been a footballer?
Crouch: Virgin.