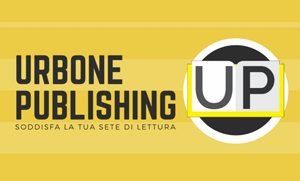 WIN VAN HANEGEM: The hatred for Germany of a 'crook' who knew how to play football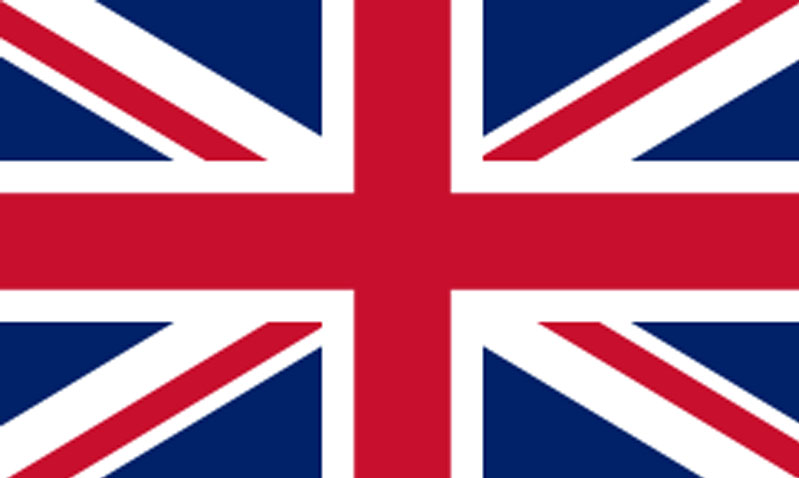 "You bloody, murderous bastards.
You screwed us again.
As always.
Like 34 years ago, when you swore that you would not attack us, that you would leave us alone.
How I hate you.
If there was one game in life I wanted to win, it was today, against you.
Then I might as well have retired.
Even though I'm only thirty years old.
But I would have done it as world champion and after beating you at home.
When we took the lead with Neeskens after not even two minutes of play I thought it was our day.
The day of revenge, even if it was only a sporting one.
Until today we had only conceded one goal in the entire World Cup … and the opponents hadn't even scored it for us.
We had done everything ourselves.
But then we were naive and we gave you the chance to get back into the game with a very avoidable penalty.
But even when you scored the second goal we were still convinced we could do it.
There was still plenty of time to play.
We put you under, playing our football, the kind that has amazed the whole world and which, they say, will change the way football is played forever.
Instead your luck (and a good goalkeeper) got the better of you.
Bloody bastards and murderers.
There are many who have forgotten what you did to our little country 30 years ago.
Not me.
I cannot and WILL not forget.
After the game I burst into tears.
With rage.
To exchange the jersey with you? Go on stage to collect a stupid medal?
No, I went to the locker room, alone.
Because this defeat hurts me, a lot.
Much more than all the others.
More than my teammates and the fans who supported us during this World Cup.
Because I, because of you, have lost much more than everyone else 30 years ago …
Right now everyone is at the party organised for the final goodbye of this World Cup.
My comrades side by side with you, you bloody, murderous bastards, probably with a glass of champagne in their hands laughing and joking.
Without even thinking for a single second that the fathers and grandfathers of those you are amiably joking with are the same ones who killed our family members.
My comrades.
Only Johann timidly tried to convince me to join them.
"Come on Wim, come with us and for a few hours try to put your grudge aside."
"No way Johann. Not after what they have done. I hate them and always will."
I'd rather stay in the hotel, alone. Watching and reviewing the match in my head and wondering what more I could have done to avoid this defeat that I know I will never be able to forget.
… waiting for another chance to beat them and possibly humiliate them.
It is 11 September 1944.
Nazi Germany is now losing all hope of winning the war they themselves unleashed exactly five years earlier with the invasion of Poland.
Perhaps because of this, the Germans' anger is increasingly blind.
Lutwaffe planes have been bombing Holland for days.
Civilian deaths are not counted.
Many bombs also fall on Breskens, the small town near Rotterdam where Van Hanegem's family lives.
They are all fleeing to the countryside in search of safety.
Lo and Izaak Van Hanegem, Wim's father and older brother, decide to return to Breskens to get supplies for the family.
They are surprised by another air attack, yet another.
They too die, along with hundreds of other civilians.
The war, a few months later, will also take Van Hanegem's other brother and sister.
Wim, who is not yet a year old, is with his mother, both of them displaced to the countryside and will be saved from the last stroke of the Nazi madness.
"Don't ask me not to hate them. It is impossible for me," Wim Van Hanegem will repeat at every opportunity.
The war with the Germans, for him, is never over.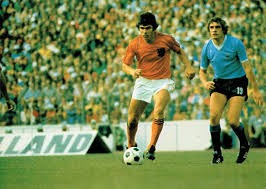 Willem Van Hanegem was born on 20 February 1944 in Breskens, a seaside town in the province of Zeeland.
It took him a while to convince the top Dutch teams of his qualities.
He is not exactly 'handsome' to look at and his style causes a lot of puzzlement.
He has two bowed legs, is tall and strong-built and is certainly not a lightning bolt.
He also tends to hit the ball almost always with the outside of his foot in an apparently unorthodox manner. The foot is the left one, as the right one only serves to support him.
When he arrived at Feyenoord in the summer of 1968, he was already 24 years old.
He played a phenomenal season, contributing with his vision of the game, his illuminating passes but also his great ability to interdict, to Feyenoord's Championship and Dutch Cup victory.
His debut in the national team came immediately and Wim Van Hanegem immediately became one of the reference players for a national team that was quickly regaining prestigious positions at international level.
But the real turning point in Van Hanegem's career came the following season.
On the Feyenoord bench sat Austrian Ernst Happel, who had made a name for himself as an innovative and prepared young coach with ADO Den Haag.
Happel introduced a new and revolutionary concept: in midfield, no more fixed markings and duels with opponents, but each Feyenoord midfielder (in those days still 'Fejienoord') would have an area of competence to take care of. For Van Hanegem, whose biggest handicap was his lack of mobility and 'slow' pace, this is heaven. Not only does he confirm that he has a great ability to 'read' the game, but with this new system he can limit his range of action, without having to follow an opponent all over the pitch, but just deal with what 'passes' around him … often winning the ball with his deadly tackles.
Feyenoord became a team of the highest calibre, and its triumphant march to the European Cup testifies unequivocally to the absolute quality of a team that not only had a revolutionary genius on the bench, but in the middle of the pitch had valuable players with a cohesion rarely seen in a football team.
Captain and libero Rinus Israel, left winger Coen Moulijn, centre-half Wim Jansen (indispensable in the great Netherlands of 1974), Swede Ove Kindvall and striker Ruud Geels are just a few of the players from that great team that first made the concept of 'zone' and ball possession its own.
Van Hanegem is the beacon of this team.
He fully represents the image of the club and its fans, largely made up of Rotterdam dock workers.
Van Hanegem is as hard as marble, his tackles set the 'people' of De Kuip on fire, who literally fell in love with this left-haired big-hair who kicks the ball in an unorthodox way (almost always with the outside of his foot) but who seems to be able to 'fish' his team-mates to perfection in any area of the pitch.
Feyenoord won the Champions Cup that season, the first Dutch team to do so before the cycle of rivals Ajax, who would triumph three times in a row from the following season.
In the national team he was a staple until the beginning of 1974 when Rinus Michels took the bench of the 'Orange'.
The 'General' was not a big fan of Van Hanegem.
He is too slow and compassed for the style of play he has in mind for his Netherlands.
Much more suitable is Gerrie Muhren, who has similar characteristics but is far more mobile … besides the fact that Michels knows him perfectly, having coached him at Ajax.
At the first pre-World Cup friendly against Austria Michels inserted Van Hanegem into the team. In that national team there were Cruyff, Rep, Rensenbrink and Geels on the pitch at the same time. A bit too many forwards even for the offensive and courageous football Michels wanted. Holding the fort that day was Van Hanegem himself, who acted as a veritable dam, recovering countless balls and definitively convincing Michels of the importance of Breskens' left-back for the balance of his Netherlands.
At the 1974 World Cup Van Hanegem was to be an immovable starter for that wonderful team, and he would probably have been one at the following World Cup in Argentina in 1978… if it had not been for the fact that his hard, edgy and extremely consistent character had convinced him to give up the team due to, according to Van Hanegem, poor management of sponsorship revenues for the Dutch national team's players.
He played his last game with the 'orange' the following year, in 1979, in a friendly against Belgium … at the age of 35!
After several seasons at AZ 67, Utrecht and a season in the United States with the Chicago Sting, Van Hanegem would end his football career at 'his' Feyenoord, at the ripe old age of 39.
Feyenoord where he would return as coach in 1992, leading 'De Club van het volk' (the people's team) to the title in 1993 and two consecutive Dutch Cup triumphs in 1994 and 1995.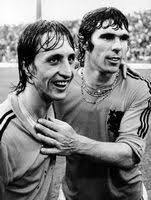 ANECDOTES AND CURIOSITIES
"De Kromme', the 'crooked one'. This was the nickname that accompanied Wim Van Hanegem in the early years of his career. He played in Xerxes, as a halfback. He has crooked, arched legs and a peculiar posture, with his head forward wedged between his shoulders. But he knows how to play football and when Ben Peeters, the then Feyenoord coach, sees him in action, he immediately realises that 'De Kromme' is the ideal man for his team.
"He is ugly, tough and ruthless. He looks like he just came out of the dockyards in Rotterdam. In short, for us he is PERFECT."
Van Hanegem will leave the little Xerxes with pure striker statistics: 68 appearances and 32 goals … really not bad for a defensive midfielder!
It is a cold December morning in 1960. Daan Van Beek is directing a training session of Utrecht Velox, a team in the Dutch Second Division.
On the outside of the fencing that borders the training ground is a tall and decidedly corpulent boy, who every time the ball crosses the net and goes out of bounds, he puts it back in with almost surgical precision with his left foot.
Van Beek approaches the boy and invites him to join the training session.
When he enters the field, the Velox players cannot hide a few wry smiles.
The boy is over six feet tall but weighs 94 kilograms.
"He's too fat. And he's too slow and ungainly and only kicks with his left foot!" is what Mr Van Beek hears from practically everyone, managers and team members.
Before he even turned 18, Wim Van Hanegem would be a starter for the Velox … thanks to Daan Van Beek who saw something in him that nobody else could see.
When Ernst Happel arrived on the Feyenoord bench and revolutionised the team's style of play, which included, as mentioned above, a zone marking in midfield, Van Hanegem's first words to him were 'son, you can do practically anything at football … except run. We will make sure you do everything else by making you run as little as possible'.
Van Hanegem's reply is almost 'divinatory': 'Boss, if I play the way you ask I could go on until I'm 40!
… Good Wim almost got it right … as he stopped playing for Feyenoord at 39 …
Reinforcing this theory, Wim Van Hanegem will always give great credit to his great friend Wim Jansen, his ward mate in Feyenoord and the Dutch national team.
"A lot of people tell me that I don't run enough. What need do I have when Wim (Jansen) is running for him and for me … and at the end of the game he is still sharp and fresh !?"
At the peak of his career, many offers from abroad arrived for Van Hanegem.
Some of them particularly advantageous from a financial point of view.
One of the most important came from the French club Olympique Marseille in the summer of 1975.
The salary proposed by the Olympique directors was apparently six times higher than the one Van Hanegem received at Feyenoord.
The decision is difficult. Wim loves his club (love absolutely reciprocated) and his country.
Whether legend or not this story deserves to be told …
It is a holiday day in Holland and Wim is on a picnic with his friend Wim Jansen, their respective wives and his inseparable dog Wodan. Van Hanegem mentions Marseille's offer and asks his wife and friends to vote on what decision to make.
At the end of the vote the balance is tied: two votes to stay two to go to France.
Complete stalemate.
Wim turns to his dog 'Your turn my friend. Bark and let's pack for Marseille'.
The dog remains motionless and mute for a good two minutes.
"OK, it's decided. You stay in Holland,' Wim says at the end of this particular consultation.
Zeeland, the Dutch province where Wim Van Hanegem was born, was hit by a tremendous flood in 1953 that caused almost 2,000 deaths and over 70,000 evacuations.
Since then, the official motto representing this area has been 'luctor et emergo' (lot and emerge) in honour and in memory of the great strength of the inhabitants of the area in recovering from such a catastrophe.
Is there a more apt motto to define Wim Van Hanegem and his incredible career?
Important: the initial part, told in the first person, is totally fictional and fantasy. These are not the words of Wim Van Hanegem who, although he has never repudiated his aversion to the German people, over the years has been able to absorb some of the tragedy that befell his family during the German invasion of the Second World War.
… that he was the only Dutch footballer not to attend the end-of-match party is, however, very true …
Wim Van Hanegem's biography is one of 38 biographies of footballers told in https://www.urbone.eu/products/questo-e-il-nostro-calcio